ABOUT THE HOUSE
Travel, tourism, and hospitality has been a major aspect of my life for as long as I can remember. When I spent some time in Europe, there was plenty of exploring, not just of all the countries and sights, but of all the different kinds of lodging options.
It was while I was there that I had my first experience staying at a bed and breakfast—and it blew my mind! This was before the time of Airbnb, so staying anywhere other than a hotel was a novel experience for me.
I remember telling all my friends back at school that I was going to own a bed and breakfast one day! Everyone laughed and thought I was crazy—they were right! You have to be a little crazy to make a dream come true.
This was one of the hardest endeavors I've ever had to endure. With that being said, I'm eternally grateful, because I'm the fortunate one who gets to meet the whole world under one roof day after day. Thank you,
Jordan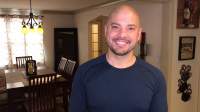 About the house . . .
This cozy, 1947 home was renovated with one thing in mind, you the guest. Each of the five bedrooms has their own private bathroom for the ultimate in comfort and privacy. All the bedrooms have a queen size bed that feels like you are sleeping on a supportive cloud. The bathrooms feature mood lighting and a blue tooth speaker, for a more spa-like experience.
The common rooms include the living room, dining room, kitchen, front porch and back patio. Here guests are invited to take advantage of a real home, with the magic of meeting people from all over the world. You never know, you just might make a new friend!
There is off street parking provided to guests. Free street parking is available but on alternates sides of the street for overnight parking.
GUEST ACCESS
In addition to the stated amenities are 4-digit key-code access to the house and your room, providing you the ultimate in convenience and security. On the day of arrival guests will be emailed a unique code plus additional information about their stay.
GUEST INTERACTION
The best part of a bed and breakfast is not just the home, but the people in it! The other guests and myself want to hear your story. We all share something in common which is we find people interesting. So introduce yourself FIRST and let the magic happen.
GETTING AROUND
Parking is provided to guests. Public transportation can take you to everything you need. The Falls, The Gorge, Canada, shopping areas, businesses, restaurants, wine tours, golf and Niagara University are literally minutes away! You can also enjoy all Buffalo, NY has to offer with a quick 20 minute drive.
THE NEIGHBORHOOD
The block on which this property is located is nice and the neighbors are friendly. Pine Avenue is close by with shops and restaurants up and down the street. Safety is not a concern. To be honest, Niagara Falls, NY varies block by block and overall the city needs much improvement—which is something we are now starting to see.
AMENITIES
Steaming TV
Wireless Internet
Air Conditioning
Essentials
Heating
Kitchen
Shampoo/Conditioner/Body Wash
Smoke Detector
CO Detector
First Aid Kit
Safety Card
Fire Extinguisher
Off-street Parking
No Pets
No Smoking